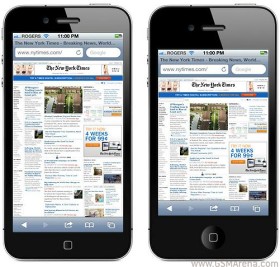 Two iPhones are reportedly currently in testing over at Apple - codenamed N41AP (or 5,1) and N42AP (5,2). They are enclosed in generic cases to hide the design and offer larger displays with a higher resolution.
The exact specs of the new display are 3.95" diagonal and 640 x 1136 pixel resolution. Those numbers suggest a pixel density of around 330 ppi, which is nearly identical to the 329 ppi on the iPhone 4 and 4S, so the "Retina" moniker will remain intact. The hypothesis is that the screen will still measure 4.93 cm in width but at 8.76 cm it will be notably taller than the one on current-gen iPhone.
If this information turns out true it will mean that the next iPhone will sport an aspect ratio of 16:9
and not the current 3:2 one
. The bigger display would also require the upcoming iOS 6 to be optimized to fit more content on the bigger screen. Supposedly Apple is currently testing a custom build of iOS 6 with a fifth row of icons above the docked ones.
Finally, reports are coming in that the next-gen iPhone will retain the home button (but perhaps it will be reduced in size) and utilize a smaller dock connector. We'll have to wait and see what the iPhone 5 (orthe new iPhone, sigh) will actually be, but one thing is certain - with the huge screens fitted on the latest Android flagships many iPhone users are rightfully starting to feel a little jealous and it's about time Apple did something about it.