The premier market intelligence firm IDC released its Q2 2011 mobile phone shipment estimates in Western Europe today, marking a fundamental shift in the market for mobile phones. For the first time, the smartphone shipments outnumbered the feature phone ones on the Old Continent.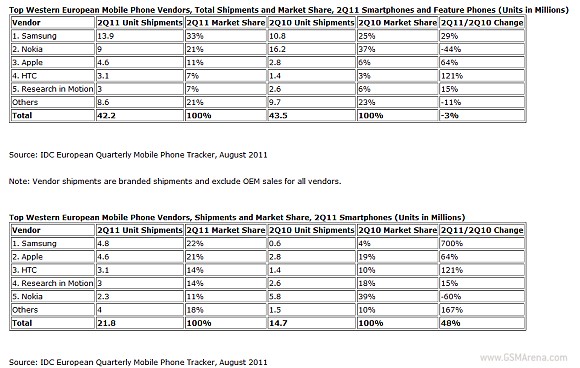 This change is mostly attributed to the significant rise of Android OS's adoption (352% year over year) according to IDC. The Google OS devices account for 48.5% of the total smartphone shipments.
As far as manufacturers go, Samsung has the top spot in smartphone shipments with 22% market share, followed closely by Apple, which has 21% of the smartphone market. The Korean giant's performance can be considered more than impressive, as the company's smartphone shipments have grown by 700% year over year, compared to 64% for Apple. Nokia is the big loser in the smartphone race with a 60% decline in shipments, compared to the same period of last year. However, the Finnish company is still the top mobile phone vendor in Western Europe, when smartphones and feature phones get combined, with 37% market share.
The remainder of 2011 will be more than eventful with Apple iPhone 5 being the most anticipated product launch. It will be interesting to see what kind of splash will the latest iPhone make, and will it be able to alter the market share landscape. As always, we will keep you posted.